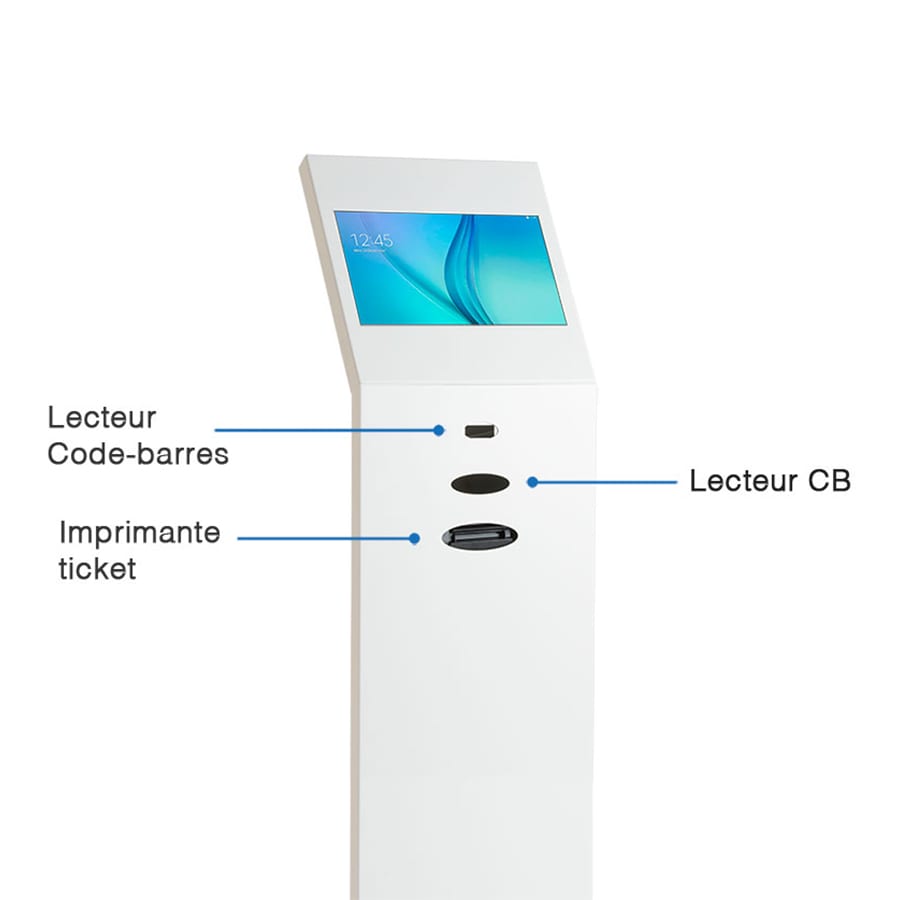 The features
- 15″ touch screen
- Thermal ticket printer
- NFC, RFID reader
- Card reader ( payment card, health card, loyalty card )
- Bar code or QRcode reader.
Immediate access for maintenance
The locked door provides access to the following components:
a 6-socket grounded power strip,
Adjustable accessory tablets,
maintained and organized wiring.
Network and 220V cables from the floor or from the back. Maintenance access in a few seconds, to change the printer roll for example.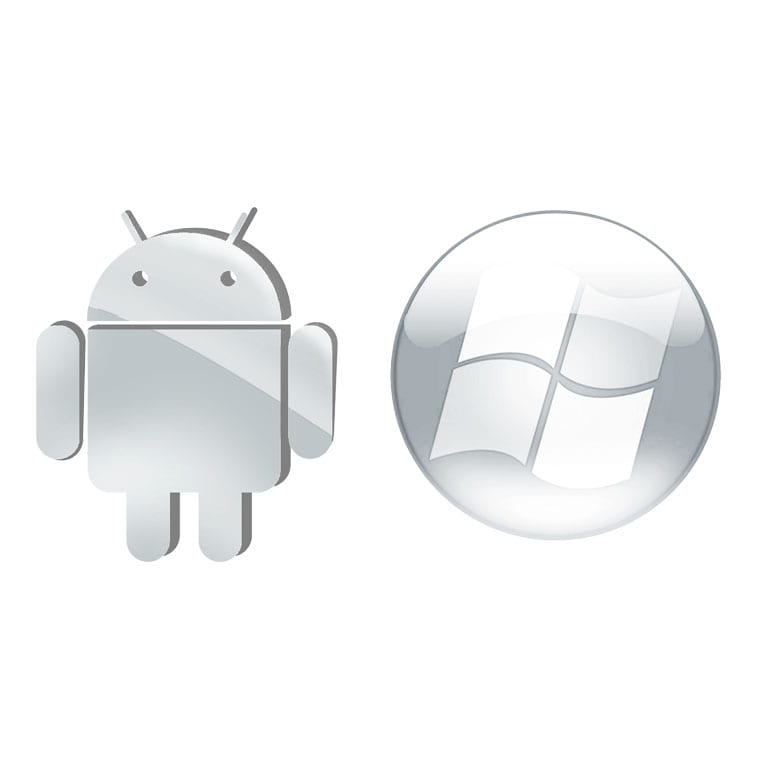 Android or Windows compatible
The 15″ version is delivered in Android however a Windows version can equip the 15″ interactive kiosk in option.
The difference:
Android brings simplicity and no mandatory maintenance.

Windows will meet the constraints sometimes imposed by the IT department.
Configurable OS on request.
Horizontal or vertical screen according to your needs
You will be able to choose to position the head of the terminal in portrait or landscape mode, depending on the configuration of the application.
The screen will always be accessible with the supplied key.
The screen is wired through an opening designed for both purposes.
You can then decide to change the orientation later (the manipulation will take 5 minutes)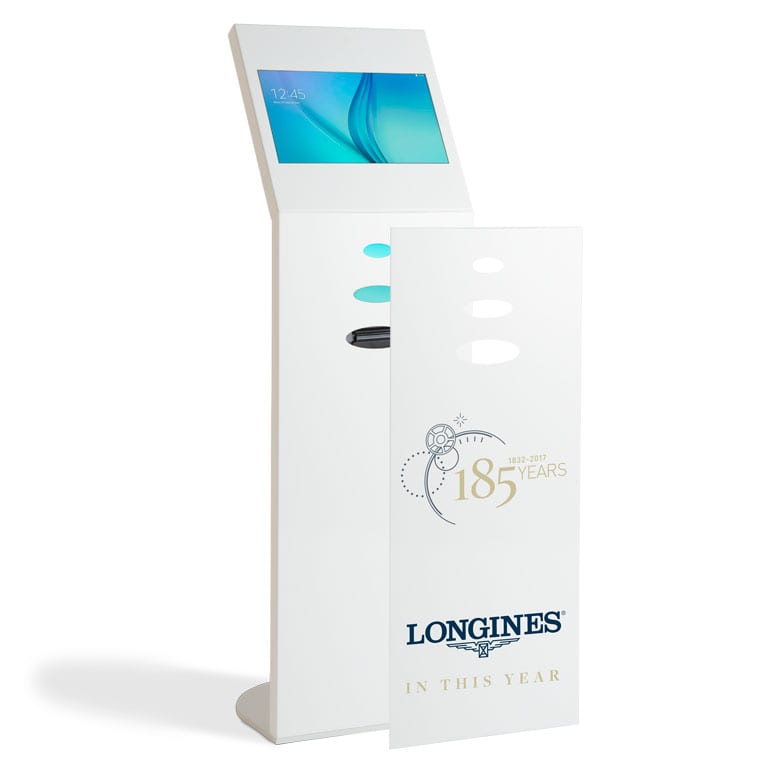 Your own interactive kiosk with your brand
Content of the panel according to the message to be broadcast,
Interchangeable panel at will,
Printing on semi-rigid media
The panels are directly printed on a semi-rigid material to resist possible shocks and ensure a great durability of your 15″ interactive kiosk.
The X terminal in 5 points
Made in France and made to measure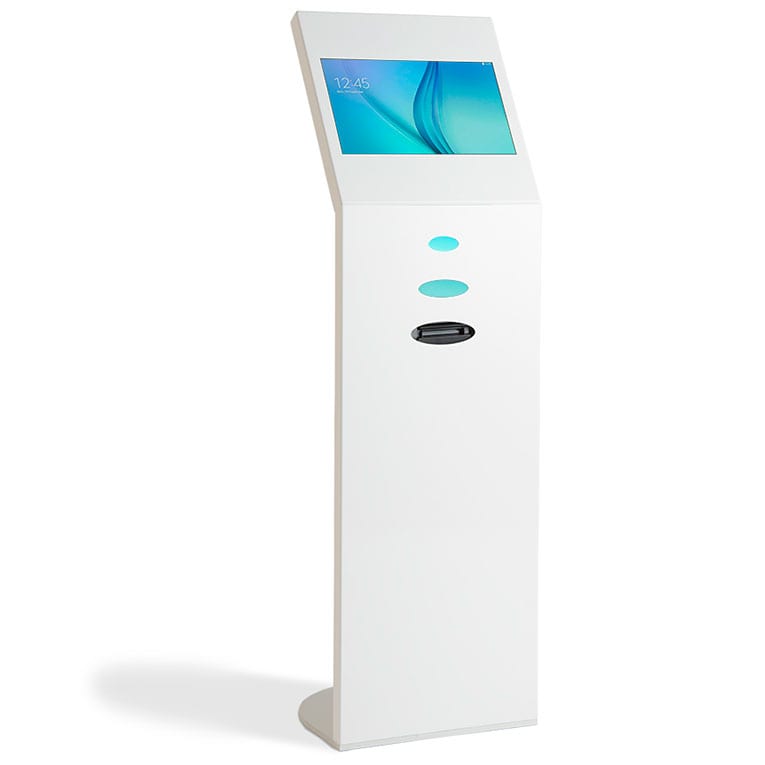 White satin paint
Anti-rust paint treatment
Vertical/horizontal
Arrange your screen in landscape or portrait format
Weighted steel base
Can be fixed to the ground
Space for your accessories
- Bar code reader - Ticket dispenser etc.
Techniques
Identical key for the entire network
Multi-socket power supply with 6 sockets hidden in the support and coming out either under the base or from the back.
Compatibility with the 15″ Android tablet
Also available in Windows version
Can be fixed to the ground
Printing of the visual is optional
Optional magnetic screen printing
Accommodation for :
- ticket printer
- card reader
- 1D, 2D barcode reader
Materials
10mm steel base with anti-rust treatment and industrial paint
Treated and structured steel body (high rigidity)
Printing on rigid PVC to be placed on the façade
Magnetic screen surround printing
Steel assembly with anti-rust treatment and reinforced industrial paint
Dimensions
L : 400 x D : 350 x Ht : 1200
Compatible software solutions